HYDNORA
HYDNORA COIN -  is a new cryptocurrency created for the community on its blockchain, based on Ethereum, which combines ProgPOW and Masternodes to protect the network from hacking, with a limited release, as well as POS (casper) in the future with the main task: creation of bonus system of discounts in stores with a convenient and simplified mobile wallet and messeger! Launched a new algorithm for mining on graphics cards PROGPOW eth - protection ASIC , very fast transactions and smartcontracts.  Any user can take part in the development of the project!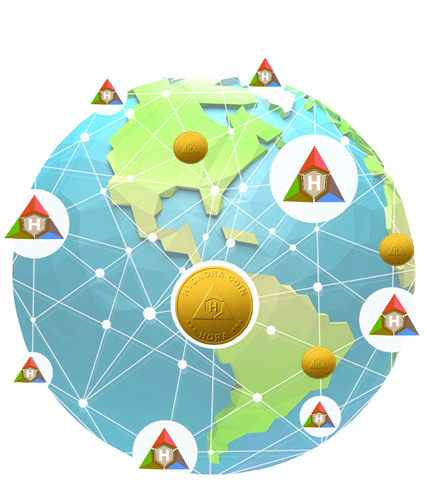 online price HYDNORA (HORA)
17.06.2019 - first tradind exchange safe.trade 09.08.2019 - CryptoBridge
We are preparing for listings on COINBENE, STEX, livecoin, mercatox, chaoex, hitbtc and other exchanges, as well as creating an application with chat and bots for trading!a closed channel has been created for our large holders!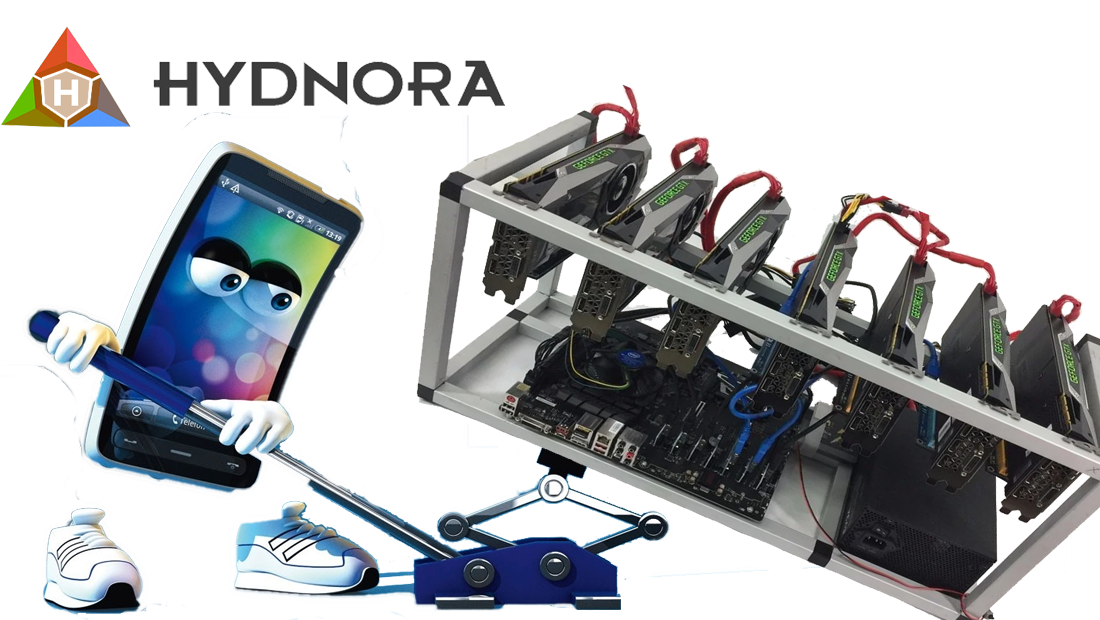 Hydnora - is a project focused on providing the following services
getting bonuses in the form of tokens in retail chains and stores
easy to use mobile wallet with chat and other functions (find stores with discounts )

data exchange and token exchange on your mobile phone

start masternode (only after600 thousand unit) to support the network and protect against attack 51%
Bonuses rewards for being active on the forums and other services
POS (casper) - bonuses when storing on a mobile wallet rates and other
anyone can take part in the development of the project helping to improve the functionality (for this purpose a separate wallet has been created, where % of mining by miners will accumulate and after voting will be spent on different services (exchanges, marketing, other.).)
any user can create smart contracts

other
spherical masternodes after 600000 blocks (need more 100 000 coin for started)
Masternodes will serve as an additional protection of the network from hacking with a very limited release. And anyone who will have a certain balance on your wallet will be able to run your node and receive a stable income. and mining coins will be 0 and block premine is not, then there will be nobody to manipulate the network(the developers will also not have coins and they will also mine like everyone else or buy on the exchange from miners), and those who first accumulate the necessary balance to run the masternode , will receive % every day, and receive coins without using mining on video cards!
Blockchain on the smartcontracts =>
How can I get some HORA
1. Mining using GPUs (including old 2GB.) progpow - not asic!
2.in retail chains (shops) when buying goods.
3. Income from the launch of their nodes from 600 000 block
4. You can buy HORA on the exchanges and store it on your wallet and sell it at any time.(the price will rise due to the reduction of the reward like bitcoin, and increase demand, as new stores will increasingly use hydnora when buying goods or services )
5. participation in discussions on forums and other services thereby receive a reward on your wallet.
6. POS (casper)- the same system as the ethereum in the future
Why we are better than others?
 we create a convenient and universal application for ordinary people who have never used cryptocurrency
it is not necessary to think and to remember long addresses of the wallets
we develop a messenger with wallets and discounts shops , did not collect ICO.
for investors there will be many privileges (access to closed channels and discounts in all our partner stores, as well as % of the profits will go to investors)
and most importantly , we will take into account all the latest technologies and wishes of our entire community, and together we will try to make the product popular all over the world
Official Wallets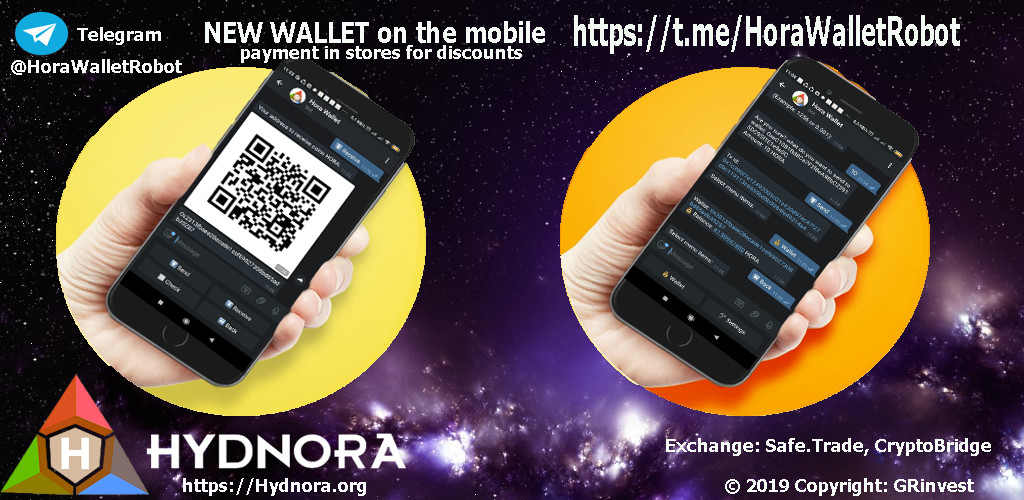 MIST - (local wallet for windows) will later! but you may be add METAMASK wallet now! (rpc: wallet.hydnora.org/rpc chainid: 19783111 ) manual make wallet and mining! https://youtu.be/n9Vk3zK_qSE
OUR ROADMAP
Start
market research
team search
tested network
Implemented the work of the Parity client
pool.hydnora.org
explorer.hydnora.org
wallet.hydnora.org
Start mainet from 0 Block without premine
wallet.hydnora.org
explorer.hydnora.org
stats.hydnora.org
pools:
pool.hydnora.org fee 1%
progpow.hydnora.org fee 0%

hora.masterpro.site  fee 0.3%
MASTERNODES
exhange HORA/ETH - on the mobile!
add new partners for discount pay HORA ,
mobile wallet + chat + tested new function
bounty, betting on online games between players, smartcontracts tested
add new tokens - stable coin  for pay discount
next
Implementing colored-tokens to create a bonus ecosystem for companies
listing on the exchange
mobile wallet update
coinmarketcap
update mobile wallet with new function
start videohosting for ip camers
Technical Specifications
The HYDNORA blockchain will be used to run smart contracts. User interfaces and online decentralized features are developed to be executed on nodes. also will discount in shops with mobile walllet and messenger. The HORA network will be a network of users with no centralized authority. (all coins (dev/MN/pos) are frozen and will be used only after entering the big exchanges, for advertising and for developing applications!)
 Algorithm:

new PROGPOW (not asic, nicehash)

 Total block reward:

 Time between block:

 Miner reward:

 Masternodes reward:

   2 HORA (after 600 000 block)

 Dev+bounty+listings:

2 HORA (frozen before 2 exchanges)

 POS mobile

1 HORA (after 600 000 block)

 rpc port:

 Node:

https://wallet.hydnora.org/rpc

Network ID:

 PreMine
Exchanges 17.06.2019 start trading!
Mining pools
Attention all new miners! ! progpow algorithm is new and protected from asic and nicehash strongly requires good memory performance ! if it gives an error, you change the settings afterburner and also:


1.change pool near you country




2.how  close crash windows  forever: open regedit

Follow the path below HKEY_CURRENT_USER/Software/Microsoft/Windows/Windows Error Reporting The values of the items below the right window The default value of Disabled, DontShowUI, LoggingDisabled, and DontSendAdditionalData is 0 and can be changed to 1 to save


http://hora.minecrypto.pro new Ddos protection rus pool 1%
pool1.hydnora.org Germany 0% ddos protected
progpow.hydnora.org Italy 0%
hora.masterpro.site (USA, ASIA , EU) 1%
 official add tt-miner on the HIVEOS after version 0.6-60@190805
FAQ
Will you have an ICO or bounty, premine?
Ico was and never will be, as airdrop and bounty, and Premine too and the rest of the functions will choose the community! in most cases, by voting!
What is your cryptocurrency different from others, because hundreds of similar projects have been launched and then died or disappeared, and even the mass launch of the mastrenod only for a short time the rate was kept?
The first 30 stores! will be added to our partner discounts(and mobile app) for free! (sorry , any shops not have banner and site, only real money sell.) if you have any questions about adding your business to our project and website, please write to hydnoracoin@gmail.com